Sisi's Amazing Journey is a modern attraction in the centre of Vienna. Visitors take a technically very sophisticated virtual tour of Vienna in Sisi's time and in the present day. You get virtual reality (VR) goggles and sit in a boat with the other participants of the tour. You feel like you are in a different, real world through 3-D looking in all directions. The reality effect is enhanced by real movements of the boat in which you sit with the other participants of the VR show. You can move your head in all directions, the image moves with you. You have the feeling of being in another, real world.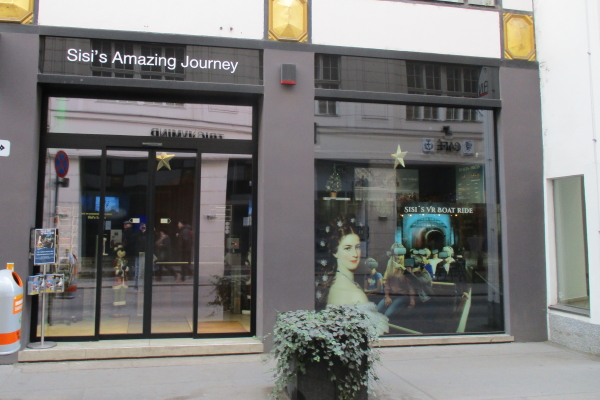 First you travel through the underworld, accompanied by the very attractive virtual Sisi. Sisi was the famous Empress Elisabeth of Austria-Hungary in the 19th century. You pass dead bodies, skeletons etc. in a tunnel under the city of Vienna. This part of the show reminded us of a ghost train. You are also briefly at Schönbrunn Zoo. Later you fly over the Danube and over the Danube Island in Vienna in modern times.
If you have never been on such a modern VR tour, you will be thrilled. The whole thing is very real and really well done. You can see what is technically possible nowadays. An incredible experience.
There are more and more VR attractions like this in major European cities. You should definitely visit one of these modern, new sights. We also really liked Time Ride Dresden, for example. In Vienna there is a similar attraction, even in the same street, see our article Time Travel Vienna.
Tickets and admission prices 2023 Sisi's Amazing Journey Vienna
It makes sense to buy the tickets for the VR tour in advance on the internet. The number of participants in the VR Experience is very limited. If you come without tickets, you often have to wait a long time.  >>>  Tickets for Sisi's Amazing Journey are available at this link.
The entrance fee is not too high. You pay 10.80 Euro (uniform price) on the internet. On site, the tickets are a bit more expensive (12 Euros adults).
Opening hours 2022 VR-Experience Sisi's amazing journey Vienna
The show tviennaakes place every day, usually every half hour. Usually from 10 am to 8 pm. More details when booking on the internet at this link.
Directions Sisi's Amazing Journey Vienna
Address: Habsburgergasse 3, 1010 Vienna
Very central in the city centre U-Bahn Stephansplatz (this is the city centre) lines U1 and U3 is only a few minutes walk away.
See also the other VR Show in Vienna, just 100 meters away: Sisi's Amazing Journey Vienna