In addition to Schönbrunn Palace itself, you can also visit several other buildings and museums at the palace or in the palace park. Probably the most visited other sight at Schönbrunn Palace Vienna is the Carriage Museum. Here the original carriages of the Emperors of Austria and their families are on display. In addition to carriages, there are also other vehicles such as sleighs and, since the nobility ruled Austria until 1918, cars.
>>>   Tickets for the Vienna Carriage Museum are available online at this link
Image: The original uploading user was Ivoy in Wikipedia in German (original text: Fotoatelier des KHM) – Transferred from de.wikipedia to Commons., CC BY-SA 3.0, link.
Tickets and admission prices Carriage Museum Schönbrunn: Everyone has to pay admission to the carriage exhibition, whether you visit the palace or not. It's not too expensive, though. The tour of the carriage park of Empress Elisabeth (Sissi) and other aristocrats costs just under 10 euros and is well worth it. >>>   Tickets for the Vienna Carriage Museum are available online at this link
More than 60 Habsburg vehicles are on display in the halls of the Wagenburg Museum. In addition, there are some other objects such as saddles, clothing and other items for riders. From our point of view, the old carriages from the Baroque period are especially great – beautiful.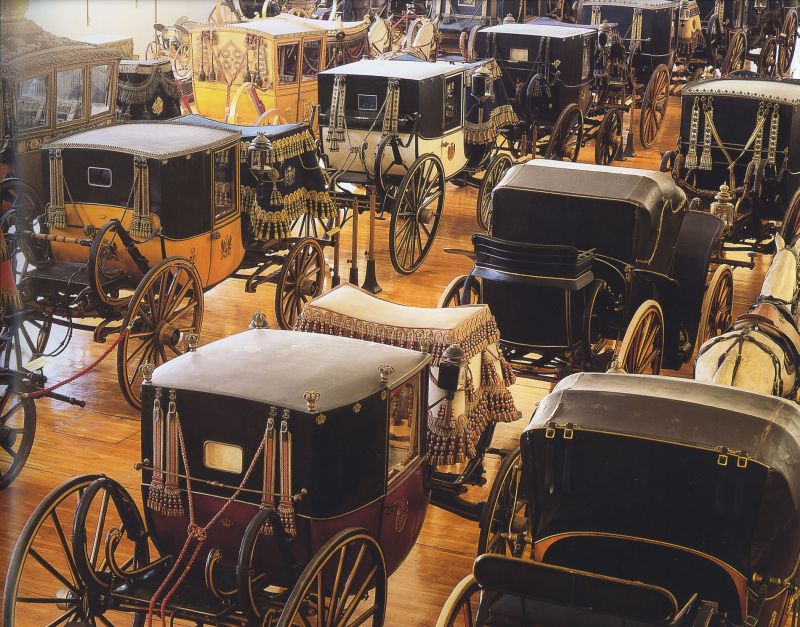 By Fotoatelier des KHM – Own work, CC BY-SA 3.0, Link
One of the highlights of the Carriage Museum at Schönbrunn is Napoleon's coronation carriage. Empress Sissi liked this carriage so much that Sissi chose it as her wedding carriage. But the absolute highlight is the Imperial Carriage, the carriage used by the emperors on important occasions, decorated with lots of gold and other things.
In the Vienna Carriage Museum, next to Schönbrunn Palace, Sissi fans get their money's worth. The carriage used to transport Sissi to her grave after her death in Switzerland is also on display. Sissi's clothes are also on display. The first luxury cars in which the aristocrats were chauffeured at the beginning of the 20th century are also great.
Official name of the carriage exhibition Vienna: Imperial Carriage Museum at Schönbrunn Palace
How to find Wagenburg Wien: The Carriage Museum is next to Schönbrunn Palace and easy to find (just under 100 metres west of the palace). The U4 "Schönbrunn" and "Hietzing" stops are both about 200 to 300 metres away. Wien-Hietzing is the name of the district where Schönbrunn Palace is located.
>>>   Tickets for the Vienna Carriage Museum are available online at this link