Time Travel Vienna is a great, new and ultra-modern attraction in the centre of Vienna. With modern media such as 5D film and VR (virtual reality), the most important events in the history of Vienna are explained to the visitors of Time Travel Vienna. The whole thing is well done – lavishly done, good in terms of technology and content.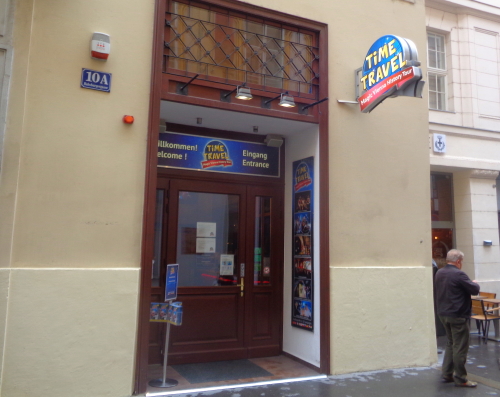 Visitors are guided through 8 to 10 stations (rooms) in an old, deep cellar 12 metres below ground. Centuries ago there was a wine cellar here, in the 2nd World War an air raid shelter.
Be sure to book tickets online in advance! Time Travel Vienna is often fully booked, you can hardly get tickets on site:  >>>  Link: You can book tickets at Getyourguide
You walk with a guide from room to room in the cellar vault. The highlights of Vienna's history are explained in a condensed and good way, relaxed with humour.
One of the highlights of Zeitreise Wien is certainly the 5D film about the construction of St. Stephen's Cathedral, Vienna's central church. Even the chairs in the cinema where you sit move with the show. You have to buckle up. It's almost like a roller coaster ride in a ghost train, you ride through groups of rats and much more. But it's not real, you're sitting in a cinema.
The show in Zeitreise Wien with the VR glasses is also well done. For example, you have the feeling of being in the middle of the Vienna Opera Ball. In addition, at other stations there are life-size figures from the history of Vienna that move and speak. These include Empress Sissi with her husband Franz Joseph, Maria Theresa, the composers Mozart and Strauss and a few more. Very spooky is the plague pit. This is where the dead were thrown in during a severe plague epidemic in Vienna.
At the end there is a visit to a real air-raid shelter in the Second World War. A bombing raid on Vienna is simulated. Everything is very real, exciting. You have fun and learn a lot about the history of Vienna.
The groups in the interactive guided tour of Time Travel Vienna are a maximum of about 30 people. There are often several tours per hour. Nevertheless, the trip through Time Travel Vienna is very often sold out. One should definitely book online in advance.
In addition, the tickets for Time Travel Vienna are sometimes a little cheaper online, there are discounts. On site one pays, should there still be tickets available, 20 euros per person.  >>>  Link: You can book tickets at Getyourguide
We have also been to similar, modern time travel attractions like Timeride Dresden and Timeride Berlin. We liked the time travel in Vienna by far the best, mainly because it is so varied, informative and technically well done. Rarely have we experienced and learned so much in one hour. The Time Travel Vienna experience is more than worth the 15 to 20 euro entrance fee.
Almost directly opposite Time Travel Vienna is a very similar attraction called Sisi's Amazing Journey Vienna, also a virtual reality experience.