Very many tourists in Vienna make a day trip to Bratislava. The two European capitals are only 60 km apart. Of course, you can also go by car, but we recommend public transport. The train leaves 2 times per hour and takes only 1 hour. Very nice is also the trip to Bratislava by boat from Vienna on the Danube.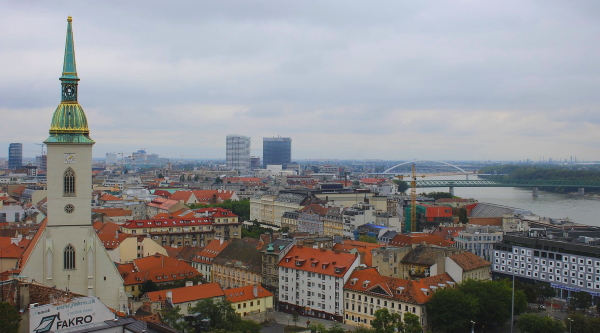 Travel from Vienna to Bratislava
By boat: There are almost daily boats (fast catamarans) between Vienna and Bratislava. They depart from Schwedenplatz in Vienna (subway station available). In Bratislava, the boats stop very close to the center. Departures are daily. The boats take about 2-3 hours one way, so it is a long day trip.
Day trip from Vienna to Bratislava by bus and back by boat: you go to Bratislava by bus and back by boat. Great, as the one way by boat on the Danube is enough. The boat takes a long time. : >>> More info and booking on this link.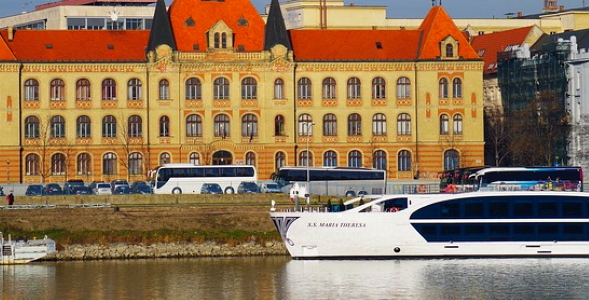 By train: Trains run 2 times per hour between Vienna and Bratislava. This form of travel is cheaper and faster than by boat, but not quite as nice. Travel time one hour one way. One train per hour to Bratislava main station and one train to Bratislava-Petrzalka station. From the Hbf (main station) you can walk to the old town in 20 minutes, from Petrzalka, on the other side of the Danube, there is a bus every few minutes, there is a stop right in front of the station.
Bratislava ticket: Very cheap by train, 16 euros per person from Vienna to Bratislava and back including local transport Bratislava (for day trip from Vienna Hbf).
By bus: Of course, there are also private operators who offer bus trips from Vienna to Bratislava as part of a day trip. Good we find a cheap offer with Flixbus: >>> More info and booking on this link
Sights of Bratislava
The castle is the most important sight of Bratislava. It stands near the Danube on a hill next to the old town. The way to the top is quite exhausting on hot days in summer, but it is worth it.
Good guided tour of Bratislava: We recommend this short, good guided tour in German daily at 12 noon, duration 1 hour. >>>  More info and booking on this link.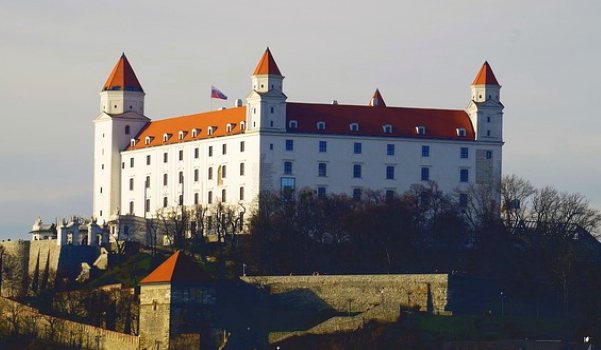 Great looks the Blue Church not far from the Old Town. Everything is blue – the entire facade and the tower are light blue or white.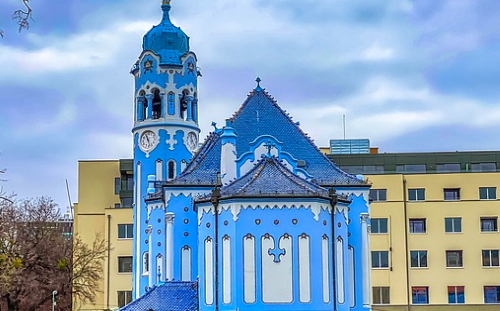 A more recent attraction is a monument in the middle of the pedestrian zone, a man looking out of a canal, the so-called Kaffir.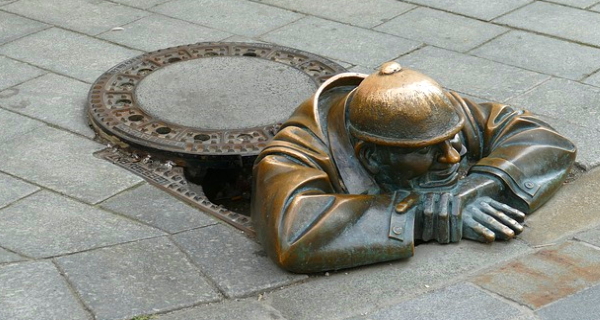 You should also go to the bank of the Danube in Bratislava. The old town is directly on the Danube. Very wide river. If you go over the long bridge over the Danube, you come on the other side to the Aupark, a very large shopping center with restaurants, etc.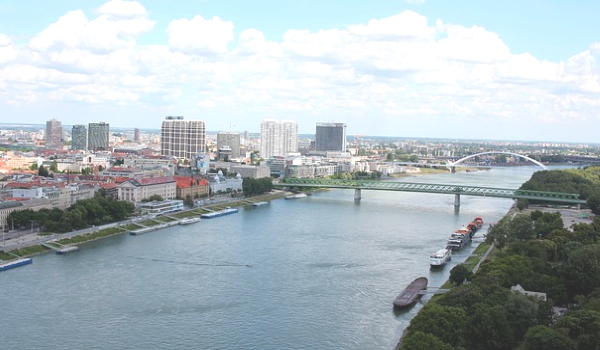 Our impression Trip to Bratislava – is it worth it?
If you go by boat from Vienna to the capital of Slovakia it is a long day because of the long travel time, but a trip on the Danube is of course something special. By train the trip is much faster and cheaper.
The old town of Pressburg (old German name of Bratislava) is beautiful and mostly pedestrian. There are many nice cafes and restaurants there, much cheaper than in Vienna. However, you won't find as many really great sights in Bratislava compared to other capitals in the area (Vienna, Prague, Budapest).
Good city tour Bratislava: We recommend this short, good guided tour in German daily at 12 o'clock, duration 1 hour. >>> More info and booking on this link.
We think: Bratislava can be seen in a few hours, just right for a day trip from Vienna. However, for several days or even a week vacation in Bratislava, there is too little to do in the city for tourists. Outside the old town, the city is still quite socialist. By that we mean lots of 8-lane roads, cars everywhere, hardly any bike lanes and lots of ugly prefabricated buildings from communism.
If you have more time in Bratislava: The surrounding areas, like the Little Carpathians, are great for hiking. Lots of forest and other natural areas around the city.